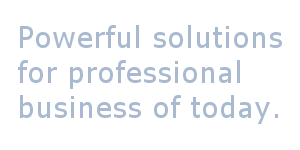 SilverCyberTech presents...

Professional solutions for business of today. Follow the easy way.

CyberInstaller Suite 2022 -
(2022/08/15)


CyberEasyManager 2020 v3.5 -
(2020/09/04) -

ITALIAN only!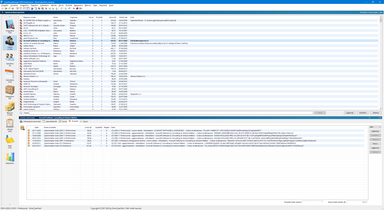 Manage you business and carry your office with you, anywhere you are!

CyberTaskTimer v2.10
- (2020/05/04)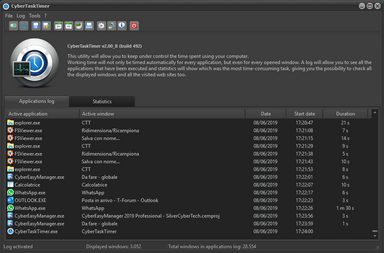 Have you ever wanted to know if and how your workday was profitable? How long have we been "distracted" by emails? From our contacts on social networks? From browsing our favorite websites or from our beloved video game? How much time did we take away from work?

CyberTaskTimer

responds perfectly to this need!



CyberTaskTimer

is a small freeware utility (free!) whose sole purpose is to monitor any application that is used, timing the usage time. At the start it is positioned near the Windows clock, in the lower right corner of the taskbar (sys-tray) and is activated immediately.
CyberTaskTimer

can also be used to retrace all the programs that have been opened on your computer, indeed, not only the programs, but all the windows that have been viewed (including the screensaver and the websites displayed). In this way you can also go back to any improper use of the system and any unauthorized uses...



Follow us on the social networks



Now you can follow all

SilverCyberTech

news also on Facebook or on Tweeter. This way you can be always updated on any news of your favorite software directly on your email or on your smart-phone.
Don't hesitate, it's free: sign up now to stay up to date!




Testimonials: what they say about us...
Lots of users are highly satisfied with

CyberInstaller Suite

for their needs. Users, companies, corporations and other organizations have found an improvement of their activity thanks to the power, versatility and ease of use offered by

CyberInstaller Suite

.
Some of them wanted to be testimonials, showing their trust in

CyberInstaller Suite

. Become a testimonial now! You will have your logo on our site.


Contacts

Contact
SilverCyberTech
for further informations about produtcs, issues, or anything you might want to ask or say.
We will be glad to help you!



customer service

technical support


All contact information to this page.